Diversified Graphite Inventory
To insure ready availability for our customers, we maintain a substantial inventory of graphite produced by various graphite companies from around the world. We also have the advantage of having a graphite producer – NAC Carbon – as part of our family of companies.
Independence
Unlike some major graphite producers, we will supply graphite from a wide range of manufacturers from around the world. We have the independence to recommend the best and most economical graphite grade for your application. We will never attempt to "push" our grades of graphite.
Competitive Pricing
Our large annual graphite usage allows us to purchase graphite at very favorable prices and pass the savings on to our customers.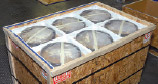 Machined graphite parts are packaged and ready for shipment.
Flexibility & Fast Delivery
All of us at GMI understand how important on-time delivery is. Also, rush jobs are not a problem. If your equipment is down, or you need graphite parts quickly in order to meet your demanding schedules, call us. We will do everything possible to deliver what you need when you need it.